For those with mobility issues, walk-in tubs can quite literally be a lifesaver. Their improved accessibility makes bathing much safer and prevents unnecessary falls in the bathroom. They also make it possible for individuals to maintain independence while bathing, potentially enabling them to age in place rather than entering a care facility. But walk-in tubs aren't cheap; on average, they'll cost you between $4,000 and $6,000. If you're putting off buying a walk-in tub because of how much it costs, keep reading. This article will give you a few tips to help you save on this substantial investment in your safety.
Medicare and Medicaid
When considering this purchase, many elderly individuals want to know if Medicare and Medicaid will pay for all or part of a walk-in tub's cost. Unfortunately, in most cases, the answer to this is no. However, it's still something worth exploring. The Medicare Advantage plans rolled out in April of 2019 offer some supplemental benefits customized to meet a person's needs. This makes it more likely that the cost of a walk-in tub could be covered for some individuals.
Medicaid offers a slightly higher chance of paying for at least a part of your walk-in tub, but each state can have several different Medicaid programs. It's essential to do your research into your state's Medicaid programs and what they cover. Specifically, you'll probably want to look at Home and Community-Based Services (HCBS). These are more likely to pay for "environmental accessibility modifications" through HCBS waivers. You can find a list of Medicaid waivers relevant to the elderly here.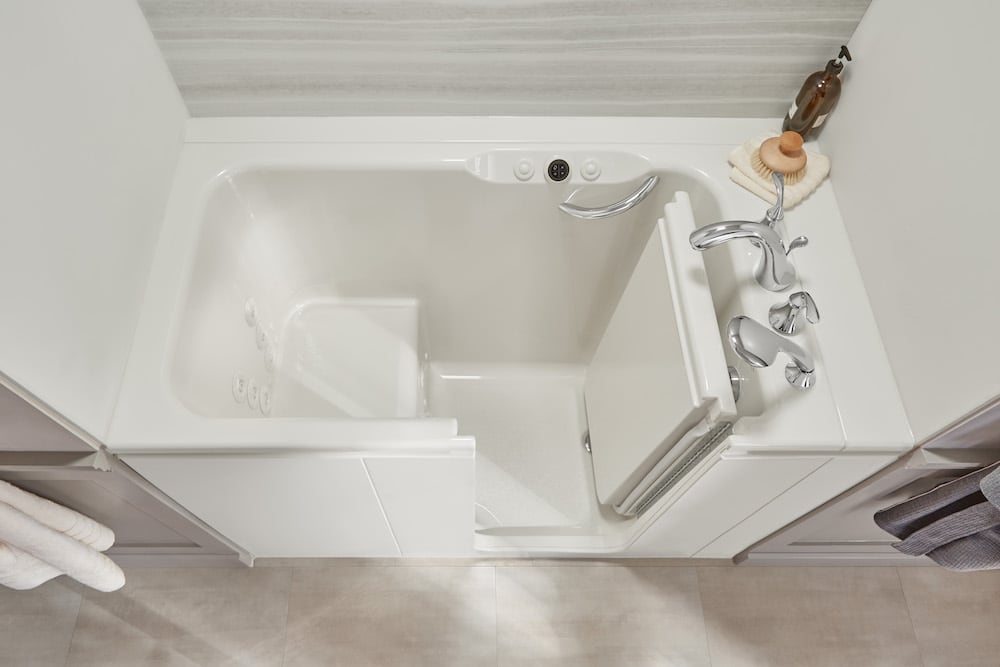 Veterans Benefits
Insurance through TRICARE and CHAMPVA is unlikely to pay for the cost of a walk-in tub. However, there are specific VA grants for disabled veterans that may provide financial assistance for this purchase. These are the Specially Adapted Housing (SAH) Grant, the Social Home Adaptation (SHA) Grant, and the Home Improvement and Structural Alterations (HISA) Grant. The last grant is the most likely to offer a roll-in shower for accessibility-related to general aging. For the first 2, accessibility issues related to military service are more likely to be approved.
Tax Deductions
If you're purchasing a walk-in tub as a medical necessity and for your safety (as most people are), then it can be considered a medical expense. This makes all the costs associated with installing a walk-in tub tax-deductible. If you're purchasing the tub for an elderly parent who lives in your home, you can deduct the walk-in tub's cost under the Dependent Care Tax Credit instead.
If you're buying a walk-in tub, you shouldn't let the cost deter you from purchasing this essential piece of equipment for your home. Many companies even offer rebates to further reduce the upfront cost of walk-in tubs. So make this investment in your safety; it's worth the price.